The Network Center : Alias : Examples
Rule Management
The Alias Administration panel provides an extensive menu of tools for centralized, fingertip control over session establishment in your local domain:
Active rules

lists the currently active Rules for Alias

Component options

sets the active Rules and the Rule mode

Define (value) Group

sets the processing order for one or more Rules, Rulesets or Groups

Display (value) Group

displays a Group or Value for viewing or modification

Rule counts

displays how many times each Rule gets used

Rule definition

contains operands for specifying Alias name assignments for a particular session

Rule display

displays a Rule or Ruleset for modification or viewing

Rule reload

refreshes the Active Rules with anychanges made to the Rules, Rulests, or Groups

Rule test

creates sample sessions to test against your Rules

Statistics

lists session activity that is being monitored by Alias

Status

displays the current alias name assignments for alias groups, pools, and resources.
Alias Rule Definition
Alias rules allow users to set conditions for dynamically assigning alias names to logical units on a one-to-one basis, from a predefined "pool" of device names, or from a Group of defined values.
The following example shows dynamic translation, which allows you to provide translation for up to thousands of device names in one easy step. Assume that upon entering the "NRS" network, all Lu's from the "OTHER" network that start with a "T" should be assigned an alias name following the pattern "OTHER%%". To implement this, you would simply define a Rule containing an Alias Mask (OTHER%%). This Rule would form a Pool of Alias names of OTHER01 through OTHER99:
Alias Assignment Monitor
The Alias Name status tool allows you to view current alias name assignments including the alias name, the name of the device it is assigned to, and the name of the Rule that generated the assignment, as shown in the following example: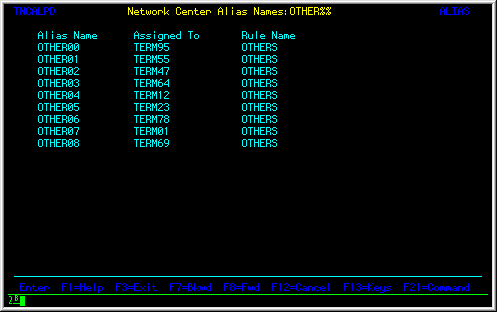 Session Activity Monitor
Users can search for information in the Message Queue using a variety of specifications like time, date, message number, Network Center component id, and specific SLU or PLU patterns:
Real-life Examples!
The best way to experience all of Alias' dynamic naming tools is by actually using it,which is why we offer a free 30-day trial. You can use your trial software on your production system or create a test environment using Alias' testing facilities. And it's hassle free: If Alias isn't right for your installation, there are no further obligations or sales contacts.